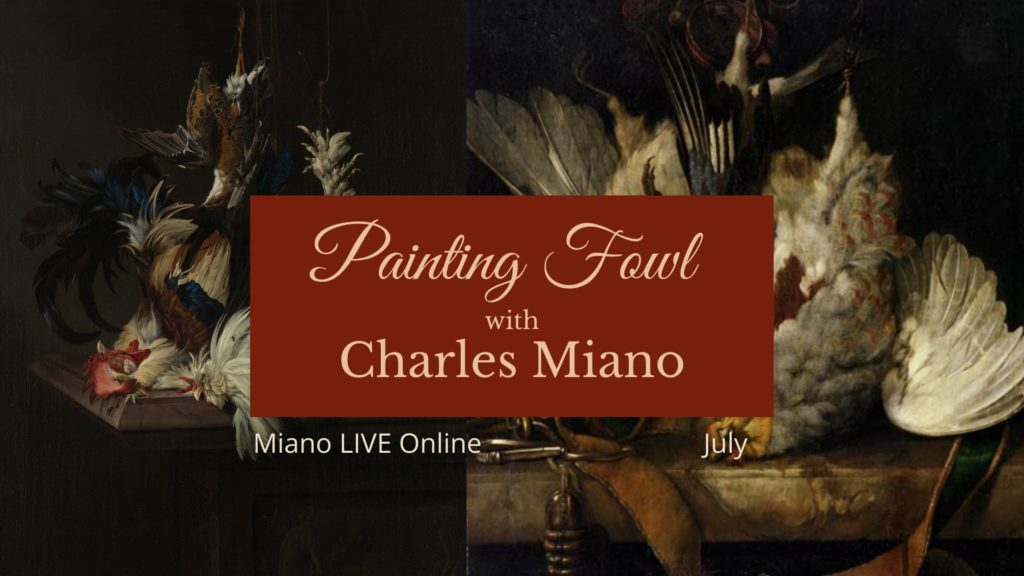 Miano LIVE Online: Painting Fowl in Oil- July 8,15,22,29
In this online workshop, Charles Miano will unlock the secret by sharing his oil painting method. Working in this exciting method will teach you to execute a painting in oil from start to finish.
With Miano's sculptural and mass-oriented approach, you will realize your full potential of seeing. Miano's method blends a perfect balance of an abstract, free approach with traditional studio technique. Unleash your power of personal expression while maintaining the beauty and naturalness of realism.
Many painting principles will be demonstrated and discussed, including:
What colors to use and how to mix them
How to start, using the "grisaille" monochromatic approach.
How to organize values
How to simplify the masses of color and their edges
How to "sculpt" planes with color
How to interpret anatomy
How to fully model your focal area
How to finish a painting
Thursdays 2:00 PM – Painting Fowl in Oil
July 8,15,22,29
Price: $350