Custom Portraits in Oil
Charles Miano has the ability to capture the likeness and individuality of a sitter with the skill and handling of a classical master. Miano's working methods are derived from the traditions of the Grand Manner of Portrait Painting; each oil portrait is hand crafted using the finest materials and pigments to create a work of art that can be left for prestige or posterity.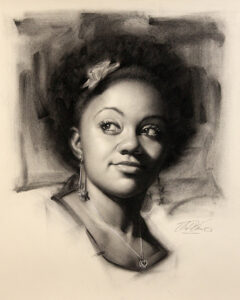 Portrait Drawings
Throughout the ages Artists such as Michelangelo, Leonardo, Van Dyke and Sargent have frozen in time the nuance and expressions of notable personalities through their drawings. Miano carries on that tradition with his unique ability to capture the style, soul and spirit of an individual with drawing mediums such as chalks and charcoals.
If you would like to learn more about the process of a custom portrait commission in oils uniquely suited to your needs, or if you would like to commission a personalized drawing by Miano, please contact us. Miano is available for commissioned work worldwide.